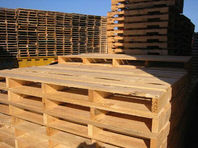 Started in 1979, Skid Recycling pallet company supplies new and used pallets and skids primarily to Chicago, Elk Grove Village, the Northwest Suburbs, and throughout Illinois, but also provides pallet delivery across the entire Unites States. We offer reliable service, outstanding customer attention, and competitive low cost pricing.
We have built truly strong relationships with our customers, and we devote ourselves and work hard to make sure that every customer, no matter how large or small, is completely satisfied. Our pallet company has customers that we have supplied pallets to for over 30 years.
OUR SERVICES AND COMMITMENT

Our knowledge of the pallet industry, customized pallet sizes, competitive pricing, pick up
and
recycling programs, special pallet design systems, and a commitment to building quality new and used pallets is what attracts our customers. T
ime and time again we hear what truly separates our pallet company from others is our honest, informative, and personal customer attention. Whatever your pallet needs are, Skid Recycling can offer a personalized and affordable solution.
Skid Recycling specializes in recycled and used pallets. Used pallets offer a cost effective, environment friendly solution for your company. We also offer export pallets and heat treating services for international shipping and distribution.